Approved by parents!
I can't read chinese books to my children, but with this, it doesn't matter because they get to hear it properly.

G Fong
I love how I can sit down with my child and explore the book together. We are both learning at the same time, and if I forget the words, we just go and tap on the book! My kid loves the chinese words and songs and different animal noises.

Michelle
My kid plays on this all the time, and he doesn't even realise he's learning! Lifesaver!

Teresa
Watch to see how easy it is to learn Chinese!
The smart way to learn
Become immersed in chinese without computer screens or phones!
Children learn language through sound and conversation (not character recognition!), especially chinese because it is a tonal language. Learn from hearing across many topics and dialogue explaining 500+ words.
Language Monkey ensures you learn to pronounce words the right way!
Fun, easy chinese!
Bright pictures supported by simplified Chinese, Pinyin and English text.
With your Language Monkey reader, your books will come alive and speak in:
- Mandarin 普通话
- Cantonese 广东话
- English 英语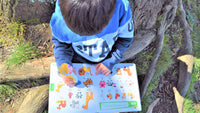 3 easy steps!
1. Turn on your Language Monkey reader
2. Tap on the words, pictures, icons or anywhere on the page.
3. The page will come to life translating words, phrases or knowledge between Chinese and English.
Your child will naturally want to repeat what they hear, absorbing Chinese in a fun and playful way!